Oh how Top of Tamarack has grown and changed over even just three short years. The first year we did TOT, it was a homeowners event. We had fifty homeowners that trekked up the mountain. This year we sold out at 300 participants a couple weeks before the event.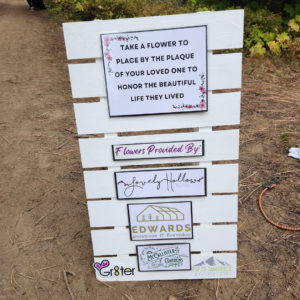 That first year we honored a local teen, Jordan Goodwin, who had completed suicide just a few months before. It felt right. It felt like it was healing for his family and that the event meant something.
I myself lost an aunt to suicide when I was eighteen, her name was Marleen. I'll never forget the day that I got that phone call that she was gone. I'll never forget the day of her funeral when I first saw my uncle and fell apart in his arms. It makes me cry just writing it. It was such a shock to lose her and a pain that sticks with you forever.
When we were planning the first Top of Tamarack, I kept wishing we could honor Marleen too, but felt like since she had passed so long ago that maybe it didn't make sense. Maybe it wasn't relevant because there were people that were lost just recently. Thankfully, the idea came after year one, that there are so many people that need that healing. And why not allow all of them to have it. That is how the "Memorial Mile" was born.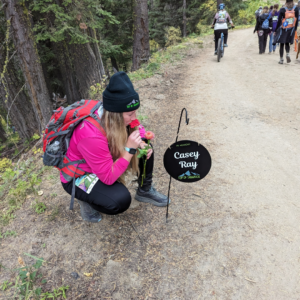 It's a place where anyone can honor their loved one, no matter when they passed. It's a place for healing.
Last year, as I trekked up the mountain during the race, I came upon the memorial mile on the most beautiful section of the course. And as I passed each of the 80 plus plaques, I touched them and said their names and told them they were not forgotten. As I found my aunt's plaque, I kneeled down and sent a prayer up for her. As I got up my eyes were a little teary and another participant was just coming down the mountain. She grabbed me in her arms in the most warm embrace and I sobbed. It was such a tender moment of caring from someone who doesn't know my story. That still makes me cry too.
This year we had over 140 honorees, almost double from last year. My hope is that the way we've enabled people to honor their loved ones, will be healing for others too. We heard yesterday from one participant, "This touched my life and healed parts of my heart that needed it desperately." I feel that so much.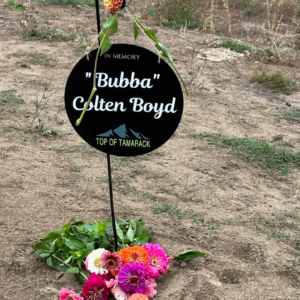 This year's new addition was having flowers at the start of the "Memorial Mile". One of Gr8ter's directors, Alexsis, came up with this idea and found a few generous local flower farms to donate flowers. It was an absolutely beautiful idea and added such a lovely element to the event.
We heard back from one participant "The Memorial Mile was truly emotional for me as I passed through. When I saw her plaque on my way up I told her I would place a flower for her on my down. To my surprise when I returned to her during my descent there were several flowers placed there for her by complete strangers! I was overwhelmed with emotions and told she will always be loved."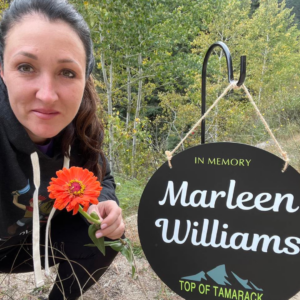 Each year we will add these types of thoughtful elements to continue making it the most meaningful event you can experience. I am overwhelmed with all of the positive feedback we are receiving. I truly could not have pulled something of this magnitude off without the help of a dedicated race committee team and wonderful volunteers giving their time and energy to making this so special. I am beyond grateful for all of you.
Marleen, you are not forgotten.
Love, Kylee